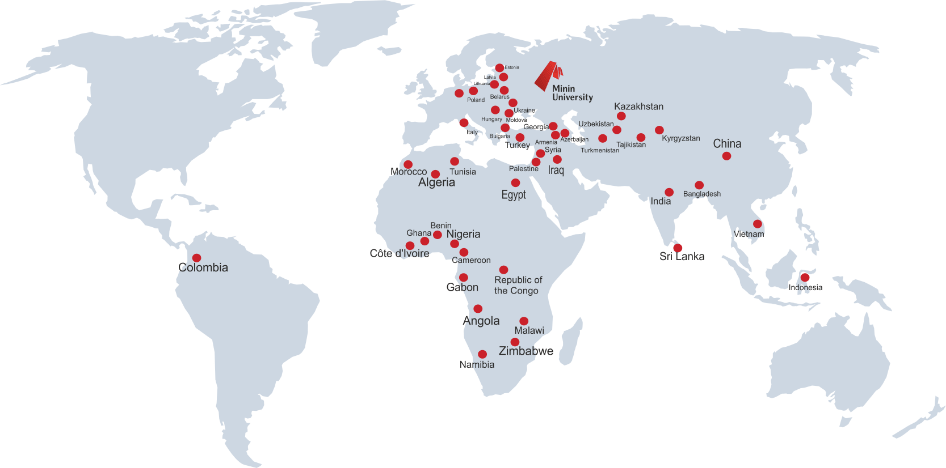 Activities of the Center for International Education and Cooperation:
Foreign students recruitment
Participating in the online projects aiming at expanding geography of recognition and representation of Minin University: StudyPortals, Uniagents, Eastern European University Association Study Platform.
Recruiting foreign students through professional agencies.
Developing Landing Pages in foreign languages at the university website.
Minin University Language Center (fee-based).
Training courses on foreign languages for students.
Test center for the Russian language, history of Russia and Russian legislation for labor migrants and foreign citizens.
Negotiations with foreign universities on possible partnerships for the purpose of developing professional skills of faculty: English language courses for faculty together with the New Mexico State University.
Creating conditions to provide comfortable stay of foreign students and faculty at Minin University
Providing information on training, accommodation, registration procedures, etc.;
Organizing social and entertainment events, encouraging informal contact between Russian and foreign students, fostering international and cross-cultural communication.
Academic mobility
Joint exchange programs of bachelor, master's, postgraduate students, summer and winter schools, joint programs of teachers exchange.
Participating in the programs, associations and educational exhibitions organized by both the European Community and Partners in Russia: Association of the East European Universities, Begin Group, Erasmus Conference on Joint Programs, Atakent Expo, St. Petersburg Economic University.