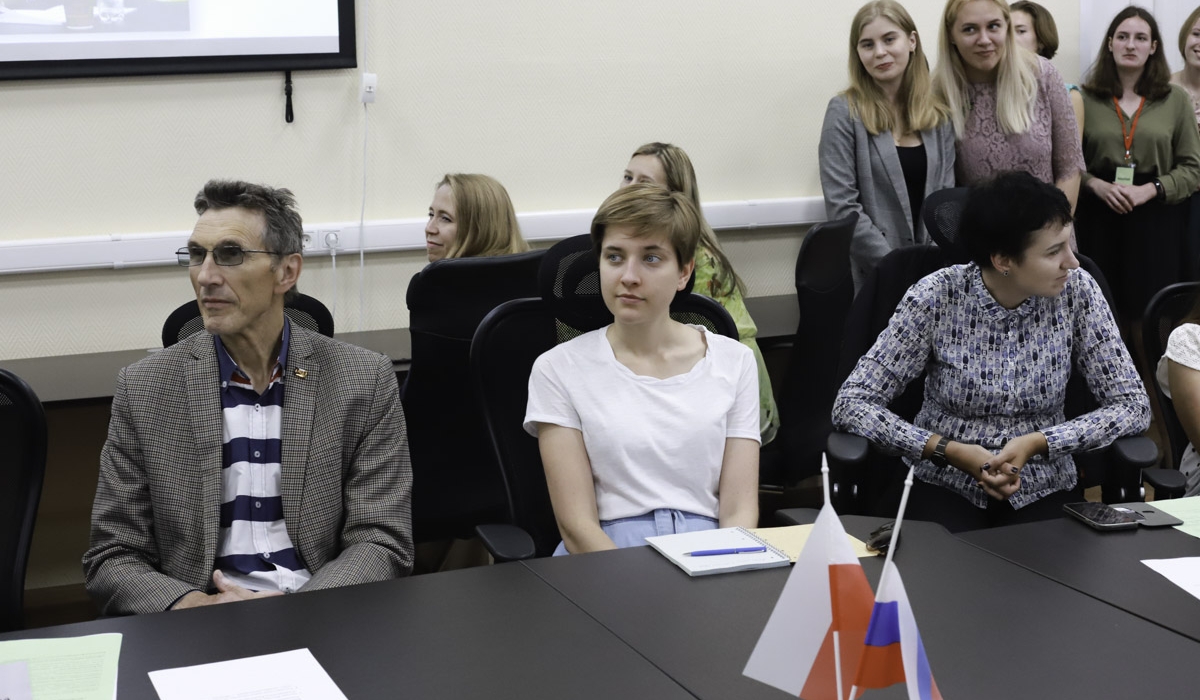 02.12.2020
From November 9 to November 20, the Department of General and Social Pedagogics was realizing the additional education program "Modern education system in the Russian Federation" that had a format of an open online course. The whole program lasted 72 academic hours.
The program was developed within the framework of the federal project "Every child's success" of the national project "Education".
97 participants from Belarus (Private institution of higher education "Shirokov's Institute of Contemporary Knowledge"), Serbia (University of Belgrade), Uzbekistan (the State Test Center under the Cabinet of Ministers), Poland (John Paul II Catholic University of Lublin, Akademia Pomorska w Słupsku) took part in the additional education course "Modern education system in the Russian Federation".
The program consisted of three units that had a common way to achieve results. All units could be used as independent didactic parts:
"Education system of the Russian Federation",
"Professional and additional education in Russia",
"The system of higher education in Russia"
Each unit included a motivational video lecture, a longread, a list of recommended literature, control materials (multilevel tests) for revision and self-examination. Longread texts contained visual materials (video clips, photographs, drawings, diagrams, clusters, tables) that illustrated the relevant content. The course program was formed with the use of innovative technologies. For instance: a real-time face-to-face interaction of students with course authors (ZOOM platform). Interactive communication was carried out by means of electronic services (Mentimeter, YouTube, Google-tools) and professional pedagogical tools (brain fitness, polls, didactic games, quizzes, music warm-ups, interviews, discussions, creative tasks, text chats).
The course was based on modern teaching methods including various tests on completing of each unit, final task of the course and usage of peer review technologies (horizontal reviewing of works by other course participants). Students had a chance to get acquainted with issues of each lecture from several author's points of view. That helped significantly increase students' involvement into educational material and evaluate its educational potential for personal development and self-identification.
According to the feedback received from the participants, the content of the course allowed them not only to get acquainted with the peculiarities and main trends in the development of the Russian education system at all the levels but also to discover new educational and professional paths and prospects.
Feedback of the project's participants:
Andrzej Frantisek (Gazitski, Poland):
"Most of all in the course program I liked the topic about modern teaching methods such as games and interaction techniques. It was very interesting to work with teachers of this project. They easily taught students the necessary skills. In my opinion, the program provided us with a chance to study the Russian education system better and got acquainted with all its merits. Probably, other international students will be interested in this course as well".
Magda Ventovska (Akademia Pomorska w Słupsku, Poland):
"The course was very interesting. I have learned a lot about the Russian education system and it was very helpful for me as a foreign student. I sincerely congratulate all the authors of our course."
Ismoilova Mohigul Shukhrat kizi (Termez State University):
"I liked the course. Since childhood, I have been dreaming about studying in Russia. Due to the course I received complete information about education in the Russian Federation. All videos presented on the platform were very interesting. It was important to find out thoughts and opinions of foreign students in Russian, because it was the students' stories and their emotions that formed our understanding of Russian education. Via this course I had a chance to compare education systems of two countries and determine the right direction for myself. I would like to thank all the organizers of this program!"
Inna Petrashevich, Head of the Department of Social and Humanitarian Disciplines and Management, Private institution of higher education "Shirokov's Institute of Contemporary Knowledge" (Minsk, Belarus):
"First of all, I would like to thank the rector of Minin university, Prof. Elena Yurievna Ilaltdinova, and authors of the course for inviting me to participate in the project. The program is unique and interesting for both students and teachers. Thank you for the opportunity to delve deeper into the topic, colorful and useful studying materials and wonderful atmosphere of online meetings!"