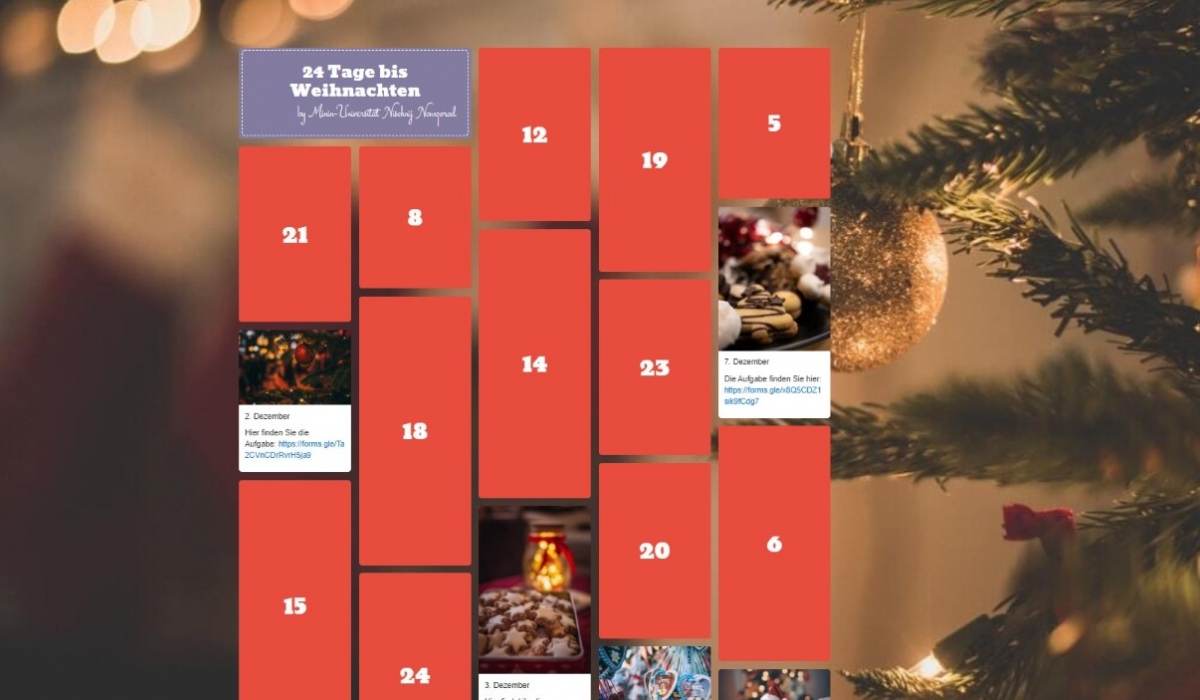 12.01.2022
In German-speaking countries the pre-Christmas period is usually associated with the tradition of the advent calendar. Opening one door of it every day of December people find hidden tasks or gifts there that help pass the time in anticipation of the holiday and create Christmas spirit.
In 2021-2022, for the second time, the expectation of Christmas for Nizhny Novgorod schoolchildren studying German was brightened up with the tasks of the Minin university Christmas online marathon Adventskalender-2021 "24 Tage bis Weihnachten". Every day children could open one door of the online calendar. There they could find assignments dedicated to the traditions of celebrating Christmas in German-speaking countries. While completing the tasks students learned recipes for traditional dishes, watched Christmas music videos, learned how to cook gingerbread houses and got acquainted with Christmas poetry and music in German.
The most active participants, according to the results of the marathon, were Minin University partner schools in the Nizhny Novgorod region: Secondary school №12 (Dzerzhinsk), Secondary school №85 (Nizhny Novgorod), Secondary school №27 (Dzerzhinsk), Gymnasium №2 (Sarov), Secondary school in the town of Zhdanovsky, Gymnasium №4 (Kstovo), Secondary school №151 (Nizhny Novgorod), Secondary school №2 (Uren), Secondary school №118 (Nizhny Novgorod), Secondary school №16 (Arzamas).
The marathon was organized by Minin University teachers Ms. Anastasia Oladyshkina, Ms. Elena Kozlova, Ms. Julia Konysheva, Ms. Julia Lanskaya, Ms. Tatyana Pleskanyuk, Ms. Olga Telegina, Ms. Elena Terentyeva, Ms. Alyona Chelysheva, Ms. Marina Aksenova, Ms. Tatyana Tsikuleva, Ms. Maria Kharitonova, Ms. Ekaterina Nikanorova.