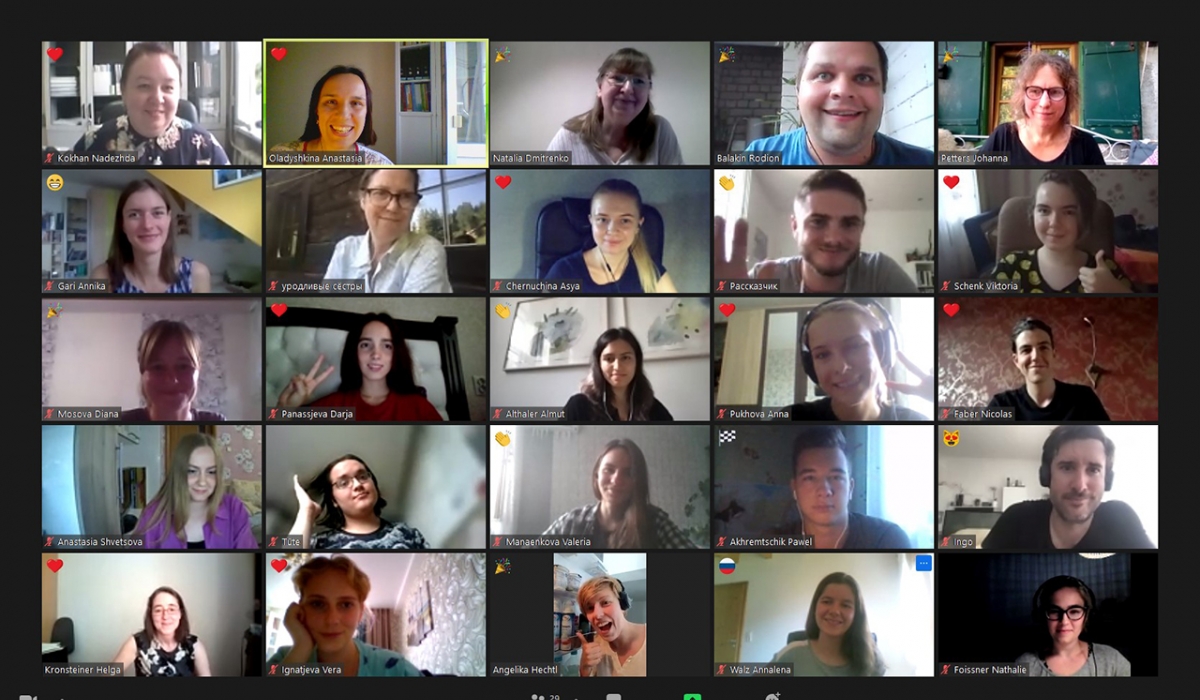 20.08.2021
For two weeks 24 Austrian and Russian students have been studying Russian and German as foreign languages. The Tandem program was structured in such a way that students always worked in pairs during classes. Austrian students assisted teacher at the German language lessons and helped Russian students get to know the German-speaking culture better. And during the Russian language classes groups changed places and our students helped their German friends.
Alongside their studies, students actively participated in cultural program that was also organized online. The program included online excursions to the cities of Russia and Austria that were carried out by the participants of the program for their groupmates. An important part of the Summer school program was joint Austrian-Russian presentations on relevant issues. An international tandem prepared a report on a similar topic but from an Austrian or a Russian point of view. Students talked about the most important films in Russian and German cultures, reflected on the values of our cultures and introduced each other to contemporary music and literature of target language countries. An eventful cultural program included a real live cooking show: following the guidance of a native speaker students altogether cooked pancakes and Viennese schnitzel, Olivier salad and dumplings.
N.P. Dmitrenko, Associate Professor at Minin university, Program Manager from the Russian side.
"The first online Tandem 2021 is over. I do not want to make a formal, routine speech. Feelings overwhelm me:" We really did it!". There were stress and delight, calm pleasure and joy from working in the best team with the best students. Everything is as before, as it is always in Tandem. Everything is as it should be. Thank you, my friends! We will meet in Nizhny Novgorod in 2022! "
Two Minin university students participated in the Tandem program: Polina Golyakovich, a bachelor's degree student (major "English and German"), and Vera Ignatieva, a master's student (major "Modern Technologies of Teaching German as a Foreign Language").
Polina Golyakovich shares with us her impressions:
"Most of all I liked that while participating in the program I had a great opportunity to get acquainted with Austrian culture and practice my language skills due to communication with native speakers. All the participants whom I attended classes with willingly helped one another with assignments and happily shared facts about their countries. It was just as exciting for me to share knowledge about Russian culture with them. Moreover, thanks to teachers, well-organized material and intensive work with authentic German speech I was able to improve my language skills greatly during these two weeks"
All program participants have successfully completed the course and will receive certificates from the University of Vienna and Tandem program, as well as a certificate from the Minin university Institute of Continuing Education.